RFID Access Control System Kit Set + Strike Door Lock + ID Card Keytab + Power + Exit Button
This RFID Proximity access controller using a proximity system is one of the modern access control systems, which is designed for your door security. The state-of-the-art CPU and integrated circuit techniques are applied to keep all the data from loss due to power failure. This door access control system kit is powerful and can open the door using proximity cards, passwords, or the hybrid. The access controller can provide users with more convenience by connecting to terminals, including the button for opening the door, doorbell, and electric lock that is normally open or closed.
This door entry systems is qualified as an ideal equipment for businesses, offices, factories, and communities. Get this home security systems for your security door!
Product Feature:
1. This electronic access control system has traditional appearance with useful function and high quality;
2. With professional design, This security access control systems is great for home and office high security.
3. The rfid lock kit use international advanced level of technology, its anti-interference ability, stable and reliable;
4. This door lock installation kit is easy to set up and wire. The door lock magnet comes with user manual.
5. The door lock sets with same key is suitable for the entrances and exits of appartment, multi-family houses, office, factory, hotel, school, etc.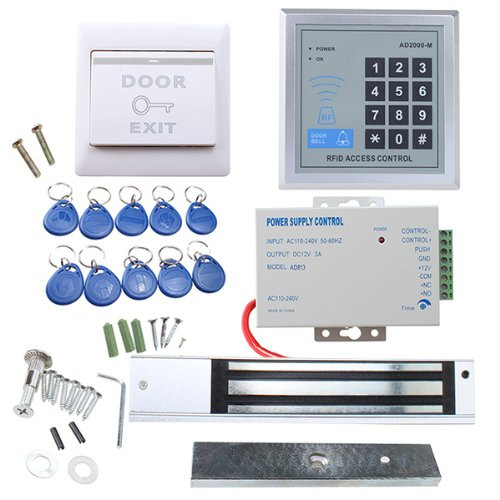 Package Include:
1x Magnetic Door Lock main body 280kg Strong Force(NC mode)
1x Armature faceplate
1 x Access Control Power Supply
1x Push Release Button
1x RFID Proximity Door Entry keypad
10x RFID Key Fobs
1x package Mounting hardware kit (for Magnetic lock)
1xpackage Mounting hardware (for keypad)
1x package mounting accessories. (for button)
1 x Manual(for magnetic lock)
1 x Manual(for power supply)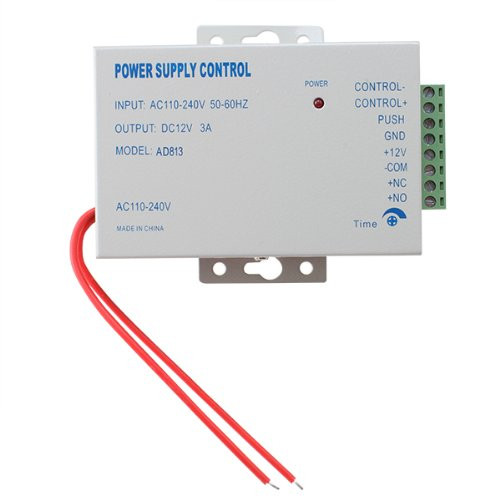 Power Supply Specifications:
Input:  AC100V-240V
Output: DC12V/ 3 A
It controls electric lock directly.
Automatic protection function
Outside iron shell dimension:120mm*95 mm*38mm
Set NC / NO outputs, can control various types of electric locks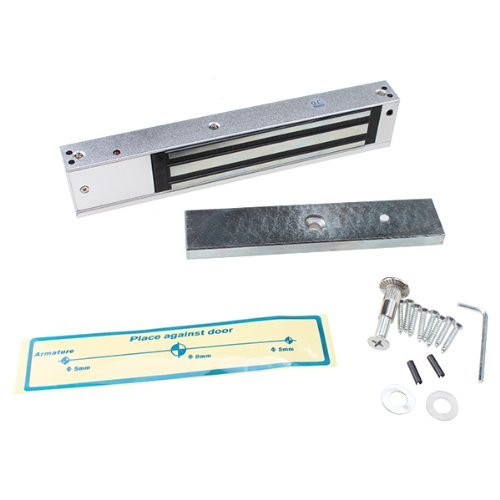 Electric Magnetic lock Specifications:
Lock Size: 250Lx46.8Wx25.2H(mm)
Armature plate: 179Lx38Wx11H(mm)
Holding Force: 280kg
Mode: NC (locked whilst power supply is operating), fail-safe mode
Voltage: DC12V
Current Draw: 0.15A~0.45A
Safety function: Built-in voltage spike suppressor
Opening Mode: 90-degree swinging door
Suitable For: Wooden Door, Glass Door, Metal Door, Fire Proof Door, etc.
Net Weight: 1.784kg
Control System Keypad Specifications:
Power Supply:DC:voltage 12V±10% Current < 0.1A
Dimension:116mm×116mm×20mm
Ambient temperature :0℃—60℃
Relative humidity :20%—80%
Memory capacity:500 user cards or 50 door opening passwords
Working distance:5-15CM
Card Type: EM or EM compatible cards
Push Release Button Exit Switch Specifications:
Dimensions: 86Lx86Wx20H(mm)
Current Rating: 3A@36VDC Max
Suitable for Door: Hollow Door
Operating temp: 10~+55℃(14-131F)
Operating Humidity: 0-95% (non- condensing)
Panel Material: Fireproof Material
 Wiring Diagram