Portable backup power station | rechargeable lithium battery ups
Unique advantages of our product, which we achieve while others just imitate but never surpass.
120W MPPT Solar Charging, improve charging efficiency by 50% than similar products with faster-charging speed, lower charging temperature and safer charging process,
AC Pure Sine Wave Output, with high efficiency of above 93% from DC invert to AC.
Fan free design, heat dissipation without a fan, eco-friendly,
NO noise, quiet, clean and safe. Completely closed chassis with long cycle life.
Light and smart, size is 55.5X29X45.5cm, N.W. 6.92kg.
Big capacity, 13500mAh/270000mAh, 500Wh/1000Wh, total 750W AC/DC output.
High power of each output, AC outlet 500W, PD 60W.
Production Compliance – comply with CE, EMC, LVD, FCC, RoHS, PSE certification.
3 ways of input charging: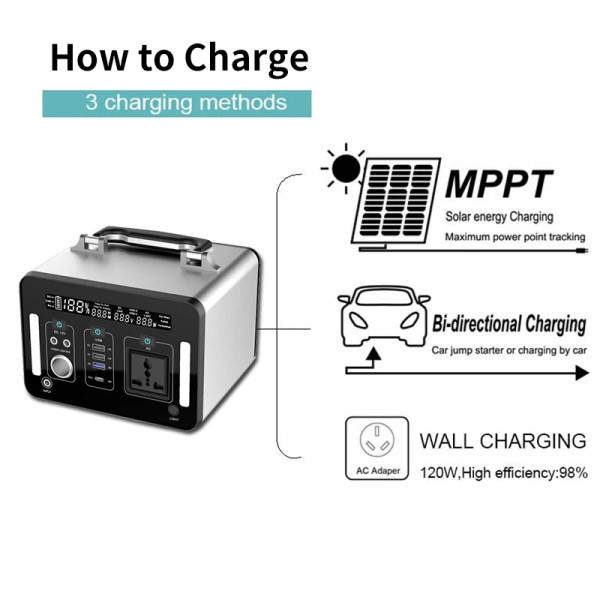 MPPT solar charging, maximum power point tracking, 7-8 hours fully charge based on weather, charging efficiency 50% higher than similar products.
Bi-directional Car Charging, car jump starter or fully charging by car within 6-7 hours.
120W AC Adapter Wall Charging, 98% high efficiency, 5-6 hours fully charge,